This Week In Crypto is a weekly segment from the Live Coin Watch News team, providing readers with a fun, succinct, and pertinent summary of the most important Bitcoin-related events in the past week or two.
Bitcoin Still Stuck in the $9,000s While Crypto Altcoins Rally
It's been a boring past seven days for the Bitcoin market. Once again, the cryptocurrency has stagnated in the low-$9,000s, failing to break out as bulls and bears have once again found themselves at an impasse.
Bitcoin's inability to break out has only perpetuated the extreme levels of volatility indicators.
Blockroots co-founder Josh Rager, who is also a crypto trader, remarked on the weekend that Bitcoin's one-day historical volatility index is currently nearing 40. Rager said that this is important because:
"$BTC volatility this low has historically led to major price action between 30% to 60% movement in the following weeks."
The market seems divided over what direction this price move will take Bitcoin and other cryptocurrencies.
Most institutions, though, are bearish. Below are a chart and data that show users of the CME deemed "institutions" have built up a net short of just over 2,000 contracts. This is important as the last time institutions were this bearish was prior to the drop from the $9,000s to $3,700 in a few weeks' time.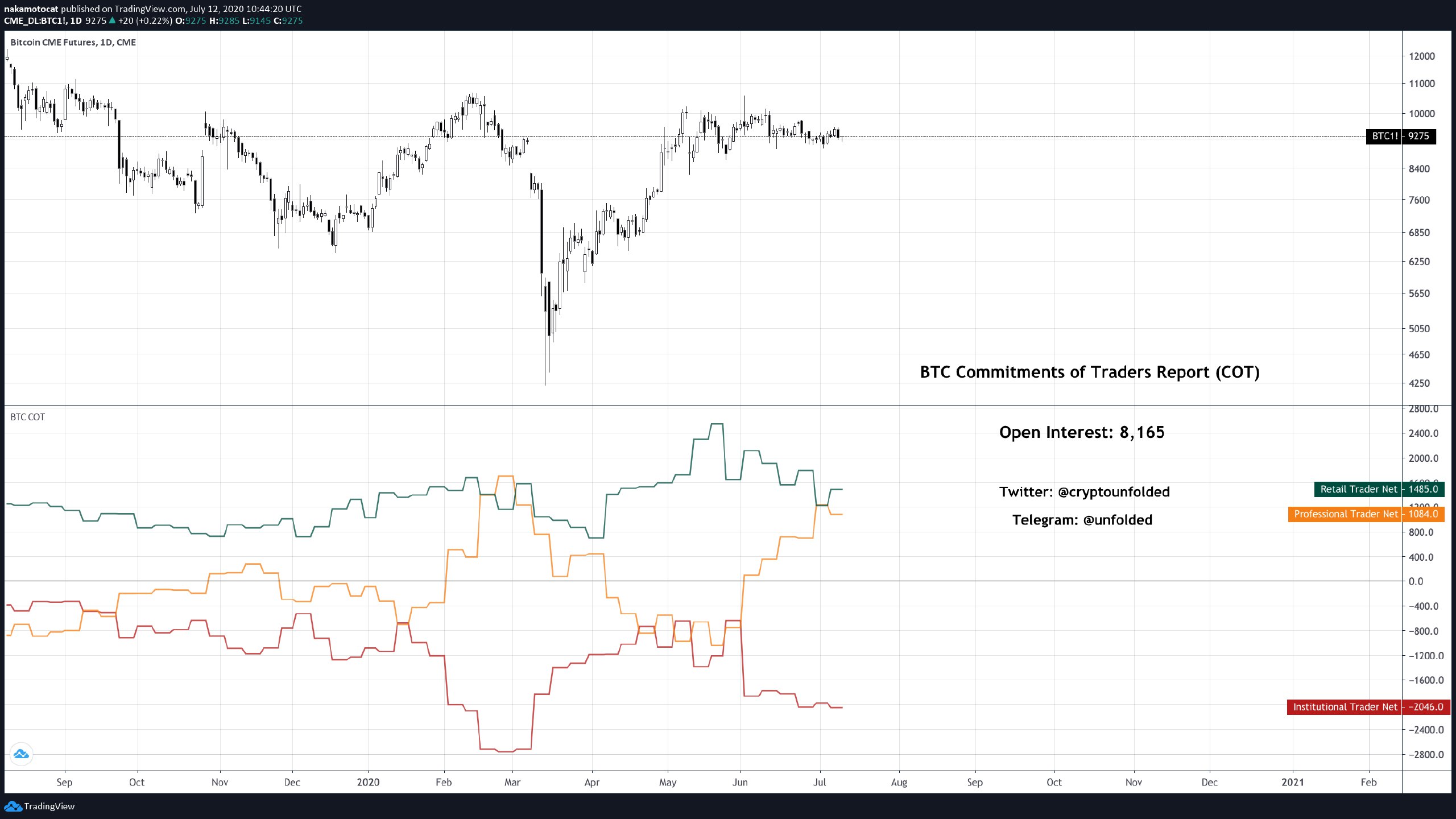 Interestingly, Mike McGlone, a senior commodity analyst at Bloomberg Intelligence, is bullish. He said in a recent comment on Twitter:
"Volatility should continue declining as Bitcoin extends its transition to the crypto equivalent of gold from a highly speculative asset, yet we expect recent compression to be resolved via higher prices."
Despite the stagnation in the Bitcoin price, many altcoins have seen stellar performances.
Hottest Crypto of the Week, Chainlink Tops $8 For the First Time Ever
Community-favorite crypto asset Chainlink (LINK) passed $8 for the first time ever this week. According to LiveCoinWatch data, the asset peaked at around $8.35, a price over 500% higher than the lows of March.
Analysts think that the asset has reached a short-term peak for the time being, with LINK trading at $7.90 as of this article's writing.
Notably, though, there purportedly remains a confluence of reasons to be bullish on Chainlink.
Crypto analyst Cole Garner recently laid out some of those reasons:
LINK's "Mean Dollar Invested Age" indicator is curling down for the first time since February's rally. This is a bullish sign as it indicates that there are new investors coming into the market. This indicator has done this before many of Chainlink's parabolic advances.
LINK's on-chain volume is not yet near bubble levels, suggesting there's room to run.
The number of LINK on exchanges is reaching all-time highs, suggesting that there is less selling pressure.
Chainlink Weapons Arsenal /a thread

1/ Chainlink broke its all time highs yesterday. And it just keeps going higher.

I think we're seeing a full blown parabolic advance.$LINK pic.twitter.com/twDv4Jkr8G

— Cole Garner (@ColeGarnerBTC) July 8, 2020
Meme Crypto Dogecoin (DOGE) Goes Somewhat Viral on TikTok
Last week, Dogecoin (DOGE) went somewhat viral on TikTok.
This was triggered by a video by a user going by "Jamez" posted a video in which he stated that users could get rich buying the meme crypto-asset if everyone on TikTok bought some DOGE.
The trend gained steam on TikTok and even spread outside of the platform. Youtuber Jake Paul, Bloomberg, Barstool Sport's Dave Portnoy, Keemstar, Gizmodo, and many others mentioned Dogecoin to their social media audiences in the wake of that video's publishing.
This isn't the first time Dogecoin has gone viral outside of the crypto industry. Once, Elon Musk, the CEO of Tesla and SpaceX, called the cryptocurrency his "favorite" and temporarily became the 'CEO' of the project.
Ethereum 2.0 Delayed? 
This week, Ethereum Foundation researcher Justin Drake said on Reddit that he thinks the launch of Ethereum 2.0 will come in January 2021 at the earliest. This comes in spite of statements from other developers and stakeholders in the industry claiming that the upgrade will launch in 2020.
We made Eth2 hard for ourselves:

* many design iterations
* many community clients vs one EF-led client
* libp2p vs devp2p; BLS12-381 vs BN254

We could have launched a year or two earlier the easy way. It was painful but it was right. Our investments will pay off for decades 🙂

— Justin Ðrake (@drakefjustin) May 15, 2020
Drake cited the need for an extensive development process to ensure security.
Fortunately for Ethereum bulls, Drake's sentiment has been rebutted by individuals like Danny Ryan and Vitalik Buterin, the founder of the crypto project.
Cardano Moving to "Shelley" 
At the start of the month, the Cardano Foundation and other development firms revealed that Cardano will finally begin its transition to the "Shelley" era.
The transition began with a release of the Shelley code, which will be implemented at the end of July.