2018 was a harrowing year for cryptocurrencies, there's no doubt about that. Bitcoin (BTC) tumbled by dozens of percent, as some claimed that the nascent asset class overall faded from the public limelight.
Chris Burniske, a partner at PlaceHolder Ventures, mentioned this thematic development, noting how the mainstream consciousness had almost entirely lost sight of Bitcoin.
Yet, analysts claim that this is slated to change in 2019, especially as this budding space has the potential to gain traction in a variety of contexts. Fundstrat Global Advisors, an American financial advisory outfit, is one such group of analysts who believe that crypto has what it takes to overcome its lull.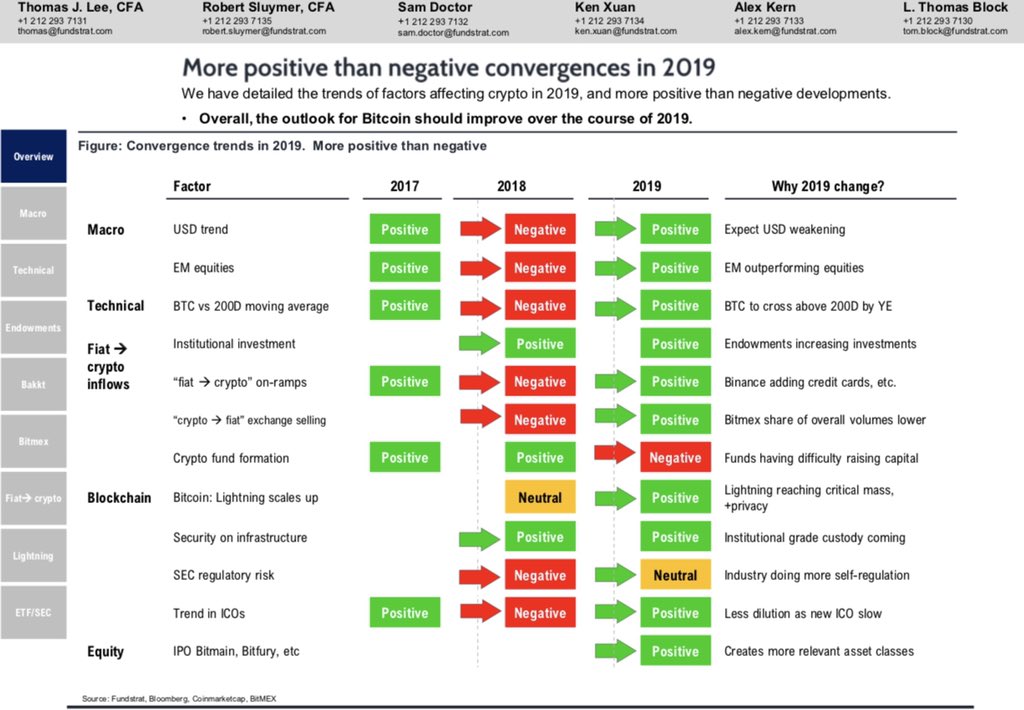 The following is a pseudo-breakdown of Fundstrat's convergence trends report for 2019, and how they could affect cryptocurrencies, especially Bitcoin.
Weakening U.S. Dollar, Emerging Market Strength
The report, authored by Fundstrat's Tom Lee, in-house chartist Rob Sluymer, among others, first drew attention to its expectation in macro trends.
In the company's eyes, the U.S. dollar has the potential to weaken over fiscal 2019. Fundstrat expects for emerging market-centric equities to simultaneously excel. While no clear catalysts were cited, it is likely that Fundstrat is drawing attention to the sporadic monetary policy that has been recently enlisted by the Federal Reserve, along with the likelihood that smaller economies will usurp the U.S. in terms of GDP growth.
Wall Street Participation
Fundstrat also believes that institutional investment will be a notable trend in years to come. The American group specifically drew attention to university endowments, some of which are likely to increase exposure to crypto assets and blockchain technology-related investments. Yet, there has been a trend of Wall Street organizations joining the fray.
Case in point, future Bitcoin futures provider Bakkt secured $182.5 million in funding recently, as Fidelity Investments divulged that it would be launching its cryptocurrency custodian offering in the coming months.
Bitcoin Lightning Network Booming
While this is all well and good, what would be a great year for the broader cryptocurrency ecosystem without some technical developments.
Fundstrat believes that the growth of the Lightning Network, a second-layer scaling solution that facilitates low-cost, effectively instant, secure, immutable, and private transactions, will be a trend to follow in 2019. In fact, the crypto-friendly firm noted that it expects for Lightning to "reach critical mass."
And it seems like this trend is already coming to life, as Jack Dorsey, the chief executive of both Square and Twitter, publicly accepted a Lightning transaction earlier this week. He also lauded Bitcoin, while bashing Ethereum, Bitcoin Cash, and Tron, overtly on his Twitter account, followed by four million strong.
Fiat-To-Crypto Infrastructure
Another notable convergence that Fundstrat expects to see is the growth of crypto-to-fiat (and vice-versa) ramps. Just recently, as reported by Live Coin Watch on a previous date, Binance added support for credit card and debit card purchases.
Bitcoin To Surpass 200-day MA
From a technical analysis standpoint, Fundstrat also expects Bitcoin to fare well. More specifically, the report drew attention to the 200-day moving average, explaining that BTC could break above this ever-important trend line by year's end. It is believed that cryptocurrencies establishing a solid foothold above their 200-day MA's will indicate that further upside is possible.
Well there you have it folks, that is Fundstrat's 2019 crypto outlook semi-report in Live Coin Watch's point of view.