This Week In Crypto is a weekly segment from the Live Coin Watch News team, providing readers with a fun, succinct, and pertinent summary of the most important Bitcoin-related events in the past week or two.
Bitcoin Trades In the High-$8,000s as Crypto Correction Hits Market
After peaking just shy of $10,000 last week, Bitcoin took a dip as low as $8,600 on the back of fears that Satoshi Nakamoto is "dumping his coins." The fears began when an address created just a month after the cryptocurrency was created sent 50 coins, 40 to a change address and 10 to a series of addresses, some of which ended up at fiat offramps like Coinbase.
It has since been revealed that this was not Satoshi Nakamoto, with programmer Jimmy Song noting that the address that sent the suspicious transaction is unlikely to be the Bitcoin creator due to blockchain data.
This sentiment was echoed by other early adopters of Bitcoin, some of which said that it wasn't just Satoshi Nakamoto closely involved with BTC back then. Long-time crypto asset trader, "Whale Panda" wrote:
"Just for the record: this is not a known Satoshi address or anything. There were multiple miners even back then."
Even still, Bitcoin remains in the high-$8,000s as can be seen in the chart below.
Unfortunately, analysts expect Bitcoin to fall even more before the market recovers.
One prominent trader shared the below chart, indicating that the Hash Ribbons indicator, which has historically crossed into the bearish territory (signaling "capitulation") every major bear trend over the past 10 years.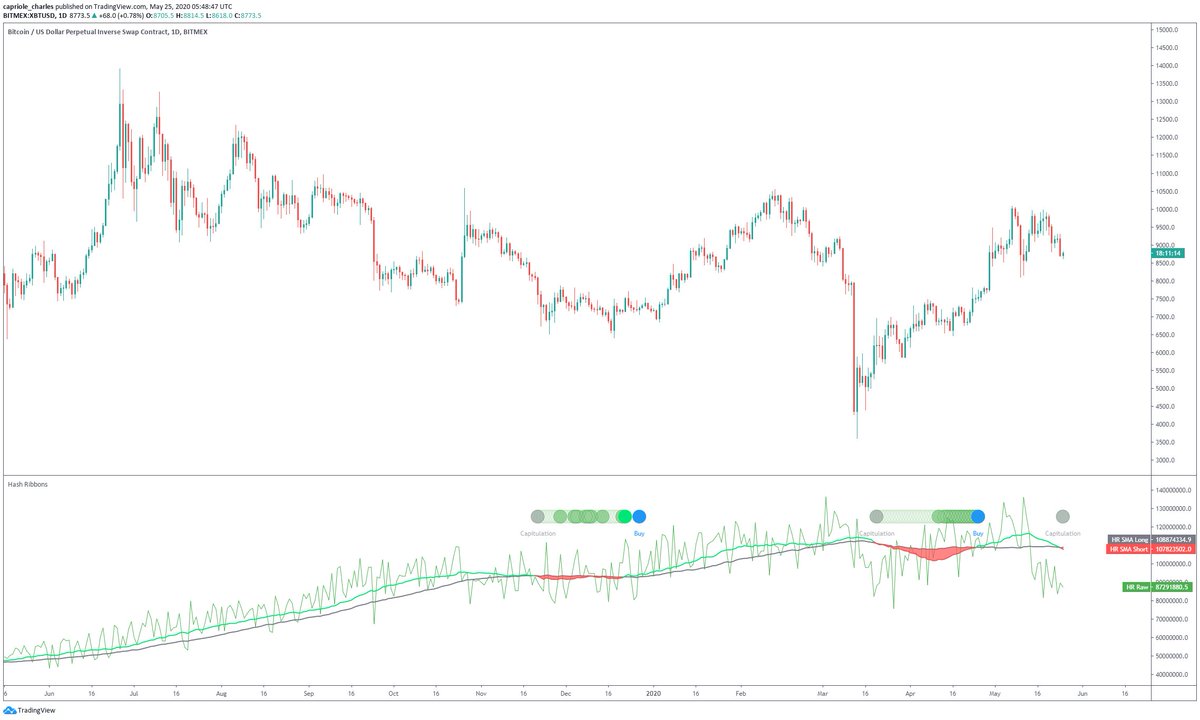 Goldman Sachs Is Inviting Clients to a Call About Bitcoin 
On a more bullish note, it was revealed by The Block this week that Goldman Sachs — the multinational investment bank — will be hosting a call on Wednesday entitled "Implications of Current Policies for Inflation, Gold, and Bitcoin."
While it isn't clear what they will be talking about, one commentator said:
"The fact that BTC is included tells you they are seeing substantial client interest."
"Rich Dad Poor Dad Author" Boosts Leading Crypto
Robert "Rich Dad" Kiyosaki — the Vietnam war veteran turned prominent businessman — has continued to promote leading crypto Bitcoin over the past few weeks as the economic outlook has worsened due to the outbreak of the illness.
He postulated last week that he expects Bitcoin to reach a price of $75,000 in the coming three years, while he also expects gold to almost double within the coming year
Chinese Region 'Bans' Crypto Mining
On Friday morning, a screenshot was shared of a Chinese government announcement involving crypto was shared around social media platforms. Asian-focused blockchain and financial technology media firm PANews said on the image:
"The Financial Administrative of the Sichuan province of China has issued a notice to its subordinate offices ordering them to 'guide [Bitcoin and crypto] mining entities to end their mining activities in an orderly manner'."
Sichuan is notably one of the world's most centralized locations for Bitcoin mining due to the region's reliance on hydroelectricity, which is abundant in supply and cheap — good conditions for miners. In other words, the banning of crypto mining would mark a big blow to the health of networks.
Though, according to Matthew Graham, the chief executive of Sino Global Capital, the fears of a ban are overblown. He explained that this is likely a conflict between local and larger governmental bodies.
Ethereum 2.0 Nears
Work on Ethereum 2.0 has continued.
Mehdi Zerouali of Sigma Prime reported in a recent report that there has been major progress in kinking out errors in the current Ethereum 2.0 spec, while other work has been done on multi-client testnet software.
We're In Crypto Spring: Reddit's Ohanian
Speaking to Yahoo Finance in an interview published this week, Alexis Ohanian, co-founder of Reddit, said that he thinks the crypto industry is in the middle of "spring" as opposed to the "winter" that haunted this nascent market in 2018:
"I try not to track prices, I can't predict any of that stuff. What I can say is we really do see a crypto spring right now in terms of top-tier engineers, product developers, designers, building real solutions on top of the blockchain. And that to me is the most interesting part… We're seeing really top-tier talent building on the infrastructure."
On Bitcoin specifically, Ohanian explained that Bitcoin is "here to stay" due to the involvement of Wall Street players in the space.