This Week In Crypto is a weekly segment from the Live Coin Watch News team, providing readers with a fun, succinct, and pertinent summary of the most important Bitcoin-related events in the past week or two.
Bitcoin Rallies to $7,800
Bitcoin has performed extremely well over the past week, managing to rally as high as $7,800, which is a pre-crash level, just the other day in a move that liquidated $70 million worth of short positions. Altcoins have been posting equally as impressive performances, with some actually managing to outpace BTC over the past few weeks.
Crypto's strength this week comes as the stock market has started to stagnate in the 2,800-2,900 point range, seemingly playing with the idea of a reversal as the economic outlook remains dismal.
This stagnation may indicate that the new $500 million stimulus bill passed by the U.S. Senate and House of Representatives this week may not be enough, with U.S. unemployment continuing to ramp up, passing 25 million in the past five weeks.
Analysts Expect Even More Crypto Market Upside
While the bullish momentum has slowed since the move to $7,800, more upside is still expected.
According to a pseudonymous crypto trader, while Bitcoin's long-term chart shows a stark reversal from 2019's highs at $14,000, the downtrend has actually formed three positive signs: three bullish divergences.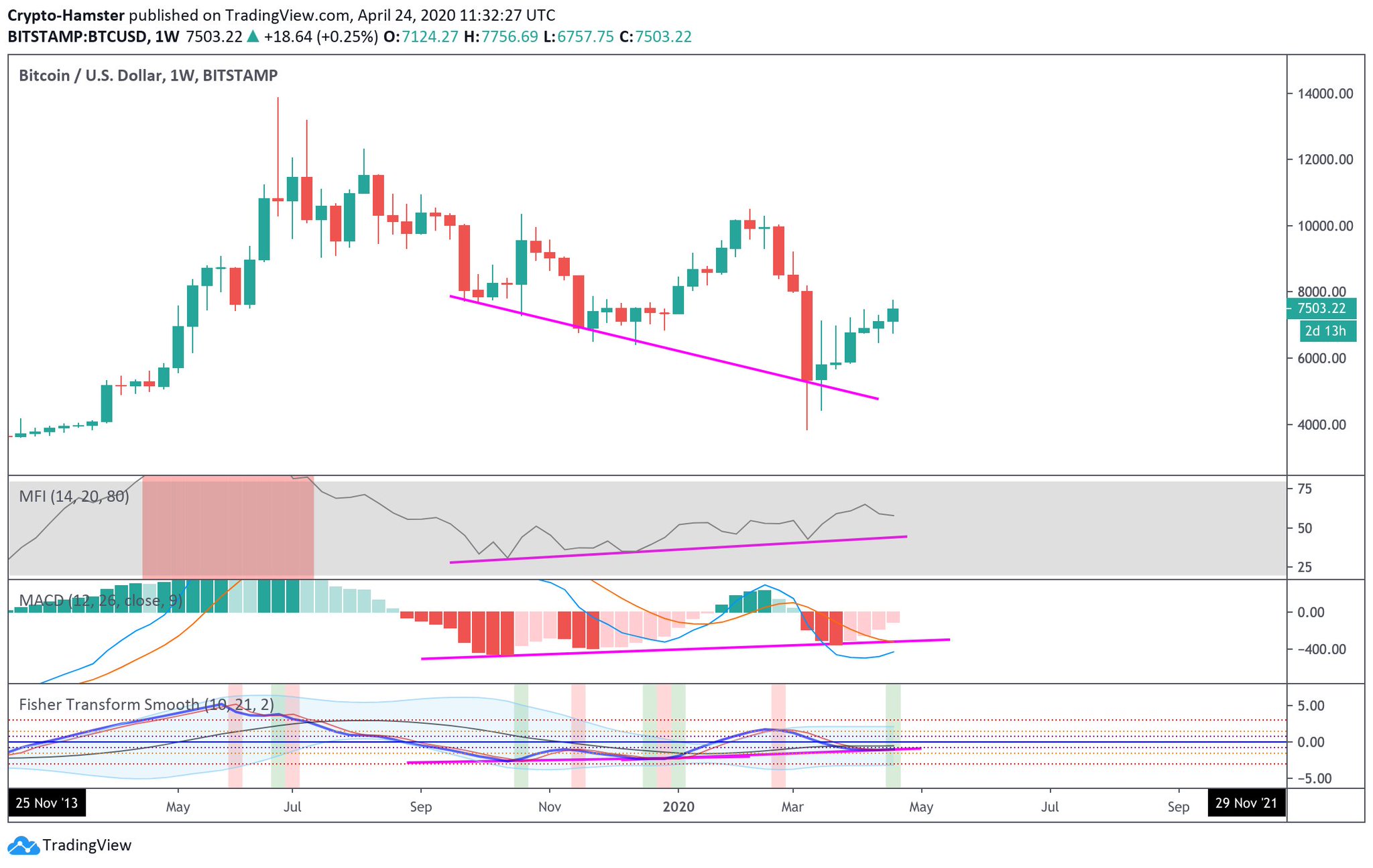 The divergences the trader pointed to were notable as he found a total of three on a weekly time frame: Bitcoin has trended lower as the Money Flow Index, the MACD, and the Fisher Transform indicators have pushed higher.
China is Rolling Out Its National Crypto Asset
According to reports, China's central bank, the People's Bank of China, will be rolling out the national digital currency project it has been working on to Starbucks, McDonald's, Subway, and many other firms.
These companies listed will purportedly test the digital currency "in small transactions" in the Xiong'an New Area, a city being built south of Beijing. This news was first reported by Sina.com. This comes after images leaked revealing digital currency wallets (not crypto wallets) for the PBOC's project from two of China's Big Four banks.
Ethereum 2.0 Draws Closer
Last Saturday (the one before last), Ethereum 2.0 got its latest testnet named "Topaz." The testnet's launch hasn't gone unnoticed. According to Etherscan data as of April 20th, there are already 18,667 active validators on the network, with nearly 1,000 more vying for a spot.
Even Vitalk Buterin, the creator of Ethereum, weighed in, explaining that he thinks that while he doesn't believe the Topaz configuration is "THE Multiclient Testnet™," he sees its launch as "huge progress" and "excellent work" by the team behind it.
Mainnet-configuration eth2 testnet.

Note that this is likely not quite yet "THE Multiclient Testnet™", as we are likely going to do one or two restarts soon to have more chances to test the genesis mechanism. But still, huge progress and excellent work by @prylabs https://t.co/EmUNnOoL6Q

— vitalik.eth (@VitalikButerin) April 14, 2020
Watch Out for Crypto Scams… Again
Crypto scams are cropping up once again as the industry has garnered steam once again. According to Molly — the ex-head of Bitcoin Magazine's China branch —  an EOS "wallet" named "EOS Ecosystem" has just run away after garnering nearly 20 million coins worth of the altcoin, valued at approximately $50 million. No other cryptocurrencies were involved. Also, there are rumors of a new Ponzi scheme called "AntiMatter Kingdom."
Ripple Sues Youtube
Fintech upstart Ripple, commonly affiliated with the crypto industry as it does use the XRP digital asset, this week sued Youtube for its "inexplicable failure" at stopping channels from impersonating the CEO of Ripple, Brad Garlinghouse.